Welcome
Alliouagana Festival of the Word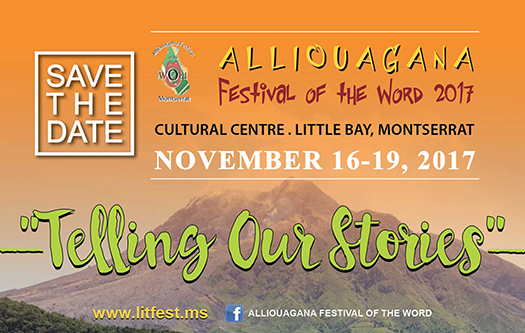 Through the centuries and across cultures storytelling has held its place as a tool that teaches lessons, provides inspiration and motivation to act, as a means of cultural transmission and for its pure entertainment. The theme for the 2017 Alliouagana Festival of the Word – Telling Our Stories – acknowledges the wide and deep reach of storytelling, especially in its African and Caribbean manifestations. Our authors and presenters will encourage you to take a closer look at the power of stories and the skill of the tellers.
We will be bidding farewell to Her Excellency Elizabeth Carriere, the Governor, and take this opportunity to recognize her special attachment to poetry and to thank her for the receptions for visiting artists that she has graciously hosted for the past two Festivals, events that attendees called memorable. Sincere thanks also to the Office of the Premier and to the Montserrat Arts Council for committing funds. A Souvenir Booklet covering 2016/17 is in preparation and documents the many businesses and individual well-wishers who support the Festival.
The 2017 Festival begins on the afternoon of Thursday November 16 with the 4th Symposium in the Alphonso "Arrow" Cassell Memorial Lecture Series. The theme for the afternoon of presentations is Storytelling: A Powerful Tool for National Development with the keynote address being given by Dr. Amina Blackwood-Meeks.
On Friday November 17, several of our invited presenters will be taking their stories and insights into the schools during the day. The Festival opens officially that evening with an introduction of guest speakers and some storytelling teasers by them for your enjoyment.
Saturday 18 and Sunday 19 will be filled with presentations and performances by our authors. Final confirmations are still pending on some, but we can announce now that the following stars have expressed their willingness to participate:
Atinuke Akinyemi – Nigerian-born storyteller and award-winning children's author
A-dZiko Simba Gegele – from Jamaica, actor, writer, teacher, storyteller par excellence. No stranger to Montserrat audiences, she is back by popular demand
Paul Keens-Douglas – Trinidadian performer extraordinaire, humourist, storyteller, author, will perform at a ticketed event on the Sunday evening.
A number of events that are now staples at the festival will be returning:
Book launches, signings and sales
MVO Creative Writing Competition Prize-giving
Word Up – A Spoken Word and Storytelling Slam organized by staff and students at the Community College on the Saturday evening
Sunday afternoon fund-raising lunch with Calypsonians Telling their Stories in Song
Book Lovers/Storytellers Parade
This promises to be an outstanding Alliouagana Festival of the Word, so do plan on attending to hear some great stories and who knows, be inspired to tell your own.
---
If you would like to donate to the Alliouagana Festival of the Word, please click the "Donate Now" button below.