Dana Manno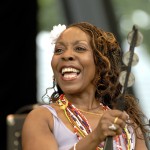 The work of Dana Manno in administration, education and performing arts encompasses the worlds of theatre, dance, music, fine arts and electronic media. As a senior faculty member of Adelphi University's Performing Arts and African American Studies departments, she developed the curriculum for and taught courses in History of Africans in America on Film, the Black Drama Workshop and Ethnic Dance. Her work with Adelphi's La Union Latino and the African Peoples Organization resulted in her appointment as Coordinator of Talent and Library Liaison for Adelphi University's Center for African American Studies Program.  As founder and artistic director of the Adelphi Arts Ensemble, she created a community outreach program that recruited university students to perform theatre, dance and music programs for residents and students of Nassau and Suffolk counties in Long Island, N.Y.
Her work as a songwriter, director and choreographer at the world renowned La Mama Theatre, led to her nominations for two ADELCO awards for the plays "Daddy" and "Songs for my Sisters".  Ms. Manno's film credits include choreographer and actress in Gordon Parks Sr.'s Leadbelly and actress in Bob Fosse's All That Jazz. The New York Times critiqued her choreographic talent in the former as "sensual and exciting".
She is currently a faculty member at SUNY Fashion Institute of Technology, where she is also the Faculty Advisor and Director of the F.I.T. Theatre Ensemble, managing the budget, directing plays and coordinating student events.