Mark Greenwood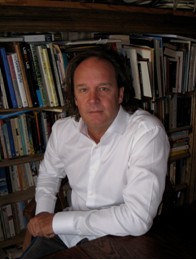 Mark Greenwood is an author and musician. His books, Outback Adventure (2000), Magic Boomerang (2001), and Our Big Island (2001) were prompted by an interest in multicultural literature and the unique way illustrated books can assist children to develop an understanding of other cultures and perspectives.
The Legend of Lasseter's Reef (2003), and The Legend of Moondyne Joe (2004) aim to encourage an appreciation of Australia's unique myths and legends. Both books have won the West Australian Premier's Children's Book Award. Fortuyn's Ghost (2007), tells the story of an ill-fated Dutch East India ship. Simpson and His Donkey (2008), was a Children's Book Council Information Honor Book in 2009 and was selected as a USBBY Outstanding International Book. Mark's new publication is Ned Kelly and the Green Sash (2010).
Mark enjoys working with students of all ages, inspiring and developing their natural curiosity about books and writing. As a musician, he spent many years recording and performing with the world's foremost record producers and musicians. Mark often incorporates percussion into literature based workshops to stimulate imagination and creativity.