A 7PM nightly reading time for children presented by Caribbean Reads and the Governor's Office on the Alliouagana Festival of the Word Facebook page.
Sunday, November 15, 2020 –
Miss Montserrat Janet Turner & Miss Teen Rondine Daly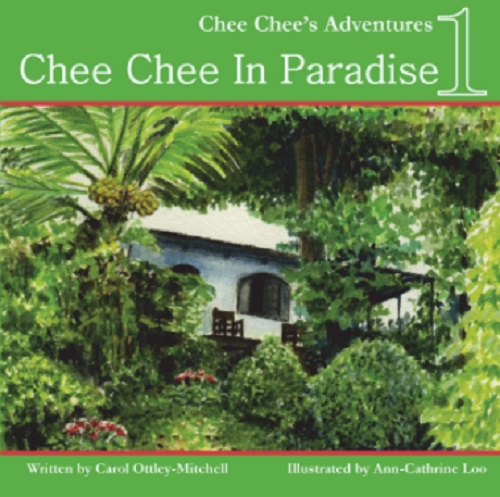 Chee Chee's Adventures 1 – Chee Chee In Paradise by Carol Ottley-Mitchell
Chee Chee and his brothers, vervet monkeys living in St. Kitts, spend their days looking for food for the family. This is dangerous work and the monkeys long for their own paradise, a garden where they can fill their tummies with fruits without being chased by humans or dogs. Can they find this special place and escape all of the dangers around it? Will it be everything they dreamed it would be?
Wilbur the Beach Big – Remember When by Heidi Fagerberg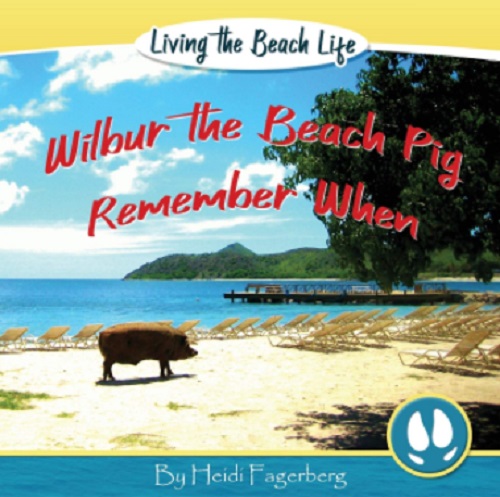 Wilbur the beach pig lived to almost 12 years old on the island of St Kitts. During his life Wilbur made many friends and had many adventures with the other animals he met on the beach; Lion Paw, Oliver and Shylo just to name a few. He was loved by all of his friends. In fact, if you visit Reggae Beach in St. Kitts you can see a beautiful memorial that Wilbur's friends have built in his honor. Wilbur wanted to share his memories with us so he left behind this fun photo journal of his life, "Remember When".
---
Monday, November 16, 2020 – 1st Runner up Miss Montserrat Stevika Rodney and 1st Runner Up Miss Teen Montserrat 2020
Girandi Alcala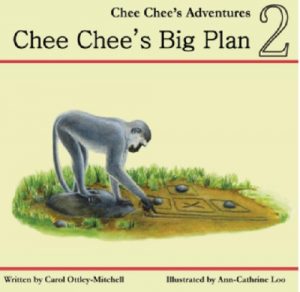 Chee Chee's Adventure – Book 2 – Chee Chee's Big Plan – The brothers found a beautiful garden, a paradise filled with fruit trees of many kinds, but they must get past many dangers to reach to their paradise. Can Chee Chee come up with a plan to get them past the dangers and into their special garden?
Lion Paw and Oliver-An Unlikely Friendship, Book 1 of Living the Beach Life – What happens when a lonely dog has to share a Caribbean beach with a tiny monkey? Can these two animals ever become friends? Lion Paw and Oliver live on the island of St Kitts at Reggae Beach, Cockleshell bay. They LOVE visitors and maybe one day you can come visit their home. You can pet them and bring special treats like fruit loops, bananas, pretzels, mangoes and more. Come join our family for the day, the more the merrier.
---
Tuesday, November 17, 2020 – Minister Crenston Buffonge reads An Unwelcome Customer from Seascapes by Carol Ottley-Mitchell
Carol Mitchell's book of short stories about unusual friendships among unusual sea animals.A snake faces new challenges in the oceans of Papua New Guinea; a cleaning gobie faces his worst nightmare and one of the ocean's strangest creatures sticks his neck out to help another. These are just some of the creatures you will meet in the three fun and fascinating stories in this book about animals living under the sea. The book also includes puzzles and poems for additional fun.
---
Wednesday, November 18, 2020 – Lorraine Lewis reads The Masquerade Dance by Carol Ottley-Mitchell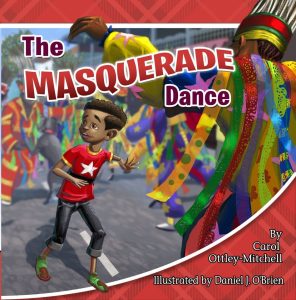 Inspired by a very real and incredible young man, The Masquerade Dance tells of a boy who is mesmerized by the "drum drum drum" of the masquerade beat and whose biggest dream is to dance the masquerade.
It is parade day in St. Kitts-Nevis carnival and Saulo is excited to see the masquerades perform, dance, and drum, drum, drum. But things don't go quite as planned.
Be careful, you too will fall in love with the masquerade dance after reading this rhythmic tale told in rhyme.
The masquerade is a performance with Yoruban roots, influenced by indigenous Caribbean styles and European dance forms, and performed in many Caribbean islands, including St. Kitts-Nevis where it is an integral part of the carnival festivities.
---
Thursday, November 19, 2020 – Gregory Willock reads Chee Chee Fights Back
Chee Chee's Adventure 4 – Chee Chee Fights Back
Chee Chee and his brothers love hanging out in their garden paradise filled with all of the fruit trees that monkeys love. So when a human family moves into the house and starts picking all of the fruit, the monkeys must use their wits to defend their claim on the trees. Can Chee Chee and his brothers come up with a plan to convince the humans to stop eating the fruit in their garden?
---
Friday, November 20, 2020 – Sharlene Lindsay reads Look! A Moko Jumbie by Opal Palmer Adisa & Jadine Greenaway reads Talia's Big Birthday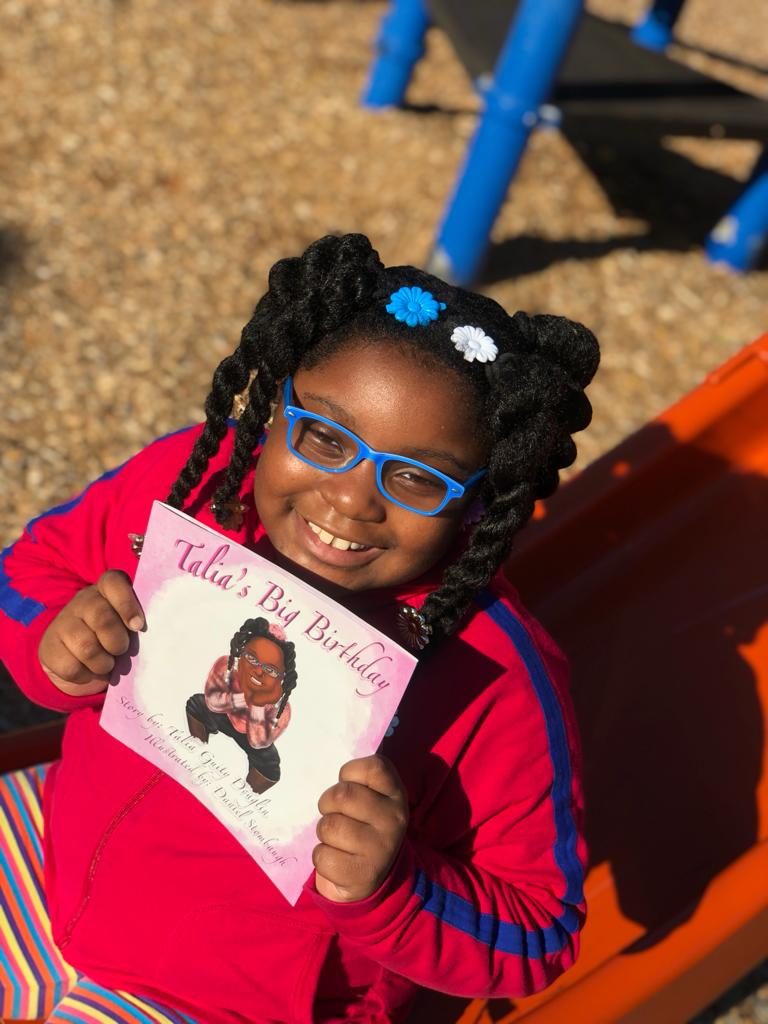 Look! A Moko Jumbie – When Bamidele spots two Moko Jumbies outside of his window one night he is determined to uncover the mystery behind the masked stilted dancers. He embarks on a quest: Are Moko Jumbies to be feared or are they really protective magical ancestral spirits?
In Talia's Big Birthday, Talia is turning seven and is about to have the most awesome day EVERRRR. Follow her from the minute she opens her eyes until her once-in-a-lifetime day is done.
---
Saturday, November 21, 2020 – Basil Chambers reads Chee Chee Finds a Home by Carol Ottley-Mitchell
About the Chee Chee Finds a Home (5)
Chee Chee and his brothers, vervet monkeys living in St. Kitts, find a way to get along with the human family living in their paradise garden, but danger still lurks in unexpected corners.
---
Sunday, November 22, 2020 – The Right Honourable Rose Willock OBE, OE reads Tata and the Big Bad Bull by Juleus Ghunta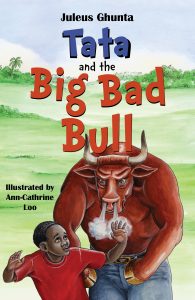 Tata loves going to school, but the only way he can get there is through Pellken Pasture, which is fiercely guarded by the Big Bad Bull. Can Tata figure out how to get past the angry bull and make it to school on time?
Told in rhyme, Tata and the Big Bad Bull is fun story about determination and overcoming fear with compassion.