Be a Good Night Montserrat Reader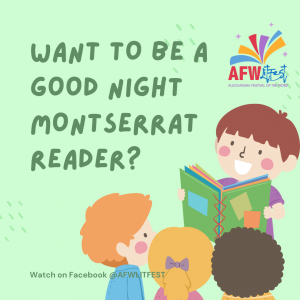 Here's your chance to be one of our readers for Good Night Montserrat.
Select a children's story which can be read in no more than seven minutes.
Record yourself reading the book in a well-lit space. (The light should be on your face not behind you. Read facing windows to add light.)
Record the video with your phone in a horizontal position.
Start your video with your name, tell us the name of the story, the author and read with as much engagement and inflections as possible. Be sure to end with Good Night Montserrat.
Send your entry by November 12 by emailing goldenmediamni@gmail.com.