The Montserrat Cultural Centre


Little Bay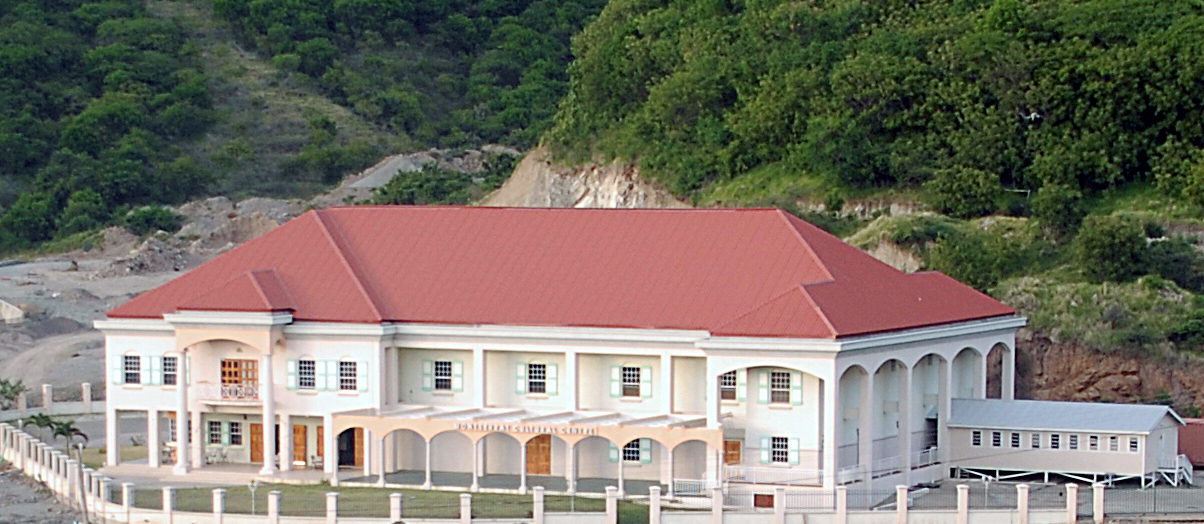 Photo byWayne Fenton
The Montserrat Cultural Centre, a prominent landmark in Little Bay, is an earnest of official intention to plant a new town in the ultra safe north of the island. Sir George Martin of international music fame built it in 2006 as a gift to Montserratians. This is the same George Martin who established a state-of-the art recording studio, Montserrat Air Studios, at the historic Waterworks estate in the 1970s; it attracted international stars of the calibre of Elton John and added to the island's fame as a welcoming isle. The new cultural landfall cost nearly US$3 million and is a now famous venue for local and international conferences in addition to being a multi-purpose performing centre.

The new urban centre of which the Cultural Centre is the beacon of promise, replaces the picturesque Plymouth which fiery avalanches from an erupting Soufriere Hills volcano ghosted by 1997. "This once loquacious little town/is now forever silent". A public market and a small sports arena have since been built in the vicinity of the Centre which already boasts a couple of royal visits. History and conservation help to define the growing cluster of works. Adjacent to the Centre is a site on the Little Bay Estate which is a part of a seventeenth century plantation belonging to a William Carr who gave his name to Carr's Bay near by. The Montserrat National Trust has been granted guardianship of the site which is to be restored to become an educational centre and heritage space.

The Cultural Centre, along with a few other buildings in the north of the island, such as the Tropical Mansion Suites, is symbolic of the rebuilding of the entire island including infrastructure, following a long litany of loss. One such infrastructure is the bay itself, both beach and entrepôt, which awaits a breakwater to allow it to accommodate ships comfortably in foaming waves. Little bay is just a short walk from the Cultural Centre. The Cultural Centre is in some ways a celebration of Montserratian resilience which our artists sing about. It is faith turned into sight (one nearly wrote 'site') and reality.

I love every hill and gully
Every ghaut, stream and valley
She's still my emerald city
Montserrat nice, nice, nice
('Montserrat Nice' Arrow)
Montserratians say 'amen' unfazed by the enormous loss. A note on the loss. It was a loss of a habitable space - nearly two-thirds of the island; it was a demographic loss as thousands or our people swelled our diaspora in England, USA and the Caribbean (You had to move even if you became "refugee in you own country"), as artist Randy Greenaway sings; it was a loss of houses and lands with obvious implications for food import; it was a loss of an economy as the industrial estate and air and seaports vanished. So the island is on a journey of recovery - nothing less.

It is significant that the Cultural Centre came fairly early in the rebuilding response to the volcanic crisis, for anything cultural tends to come far down the totem poll of development. Happily too, even if fortuitously, another response is an artistic and creative one - an outpouring of writings. The quantity and quality are such that in our view the island can lay claim to the emergence of a genre, of work worthy of the designation 'disaster literature'. There is chronology and sociological excursions and there are products of the creative imagination in calypso, popular songs, poetry and novels. The trickle which started with hurricane Hugo in 1989 became a running stream under the fire from Soufriere. Montserrat does not lack art. In the Cultural Centre; it also has a 'palace' of art.

Howard Fergus
2 June 2009