Greenaway, Sharmen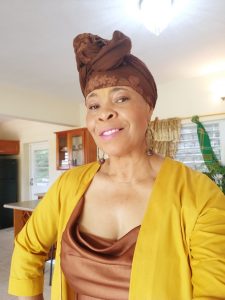 Sharmen Greenaway has a passion for writing, inspiring and motivating others through the written and spoken word. She is a prolific writer and Amazon Bestselling author with more than 22 books to her name. She was an editor for the online magazine, Focus of New York for two years.
Sharmen is a Specialist Nurse with expertise in Neurology and Continuing Health Care in London. Her academic history includes studies at Masters and Bachelor's degree in Nursing and Health Studies at the City University and London Metropolitan University in London, Registered Nurse in Montserrat and Mental Health Nursing in Jamaica
including advanced counselling in St Lucia and family and group Counseling 101 at the University of Tampa Florida. She is a Certified Public Speaker and popular presenter at spiritual events in London including annual ladies day events and retreats. She is also a Certified Life Skills Coach (USA).
As an author, Sharmen has published a number of books capturing historical data including sociological documentation of Montserrat's cultural dynamics during and preceding Volcanic eruptions. She has authored a number of children and family folk stories and contributed to a number of best-selling anthologies. Sharmen was the visionary, editor and publisher for the best-selling anthology, "HOPE, for Montserrat 25 years after Volcanic Eruptions', featuring contributions by 25 Montserrat writers. The vision, work, collection editing publishing and bestselling status of this book was all completed in a phenomenal two week period by Sharmen. All proceeds donated to the Montserrat National Museum as Sharmen think it is imperative to give something back to the country which has shaped and molded her.
Her passion for the Montserrat dialect can be seen by the current work she is doing on the translation and mobilizing of the local language. She has published the book, 'A Traveler's Guide to Montserrat English/dialect', and also the revised version, which is the first time the Montserrat dialect has been published in written format. She is currently working on the Montserrat dialect translation. The aim is to all preserving the Montserrat language which is facing the threat of being watered down by sub cultures.
Sharmen is a published Poet of the book 'Reflections' and 'Love, Thrills and Spills'. She performs the spoken word in different arrangements some of which can be found on YouTube.
She is a gospel song writer and composer. Some of her songs have been captured on MP3 and CD including 'Pour out your Blessings' and 'I'm on my Way to Heaven'. She has co-authored the book of songs entitled, 'Golden Nuggets Sacred songs, hymns and solos' and published the book of poetry, prayers and songs, 'Living your Perfect life'.
Sharmen has extensive and varying experiences and skills working as a health care professional both nationally and internationally. She has worked in a number of countries including the Caribbean, England and the United States. Some of her most challenging and rewarding experiences include coordinating the Community Nursing Mental Health program in Montserrat during the 90's and holding down the post of Neurology Clinical Nurse Specialist in a large London teaching Hospital.
In 1997 she collaborated with a nursing colleague to form the 'Adolescent Youth Group in St Peters, Montserrat to support the young evacuees who were living in shelters. The group was successful in providing sexual health education for the teenagers and fostering ethics and responsible behaviours.
Author of the book, Montserrat in England: Dynamics of Culture she captured the plight and journey of the people of Montserrat who fled mostly to the UK following volcanic eruptions.
Sharmen Greenaway nee (Thompson) has led her nursing team in peer reviewed articles in the 'Journal of Clinical Rehabilitation' including: (1) 'Patient inclusion in goal setting during early inpatient rehabilitation, after acquired brain injury; and (2) 'Incontinence after brain injury: prevalence, outcome and multidisciplinary management on a
neurological rehabilitation unit" all found in the Clinical Rehabilitation. 2009 and 2011.
As leader and part of the teaching team at a teaching/university hospital in London, she co-authored the article, 'Developing Leaders through work based learning', Learning and Teaching in Higher Education. 2010.
Sharmen enjoys experimenting with new recipes and exotic dishes. Part of the cultural work she does to preserve the cultural heritage of Montserrat includes the published cook book, 'Montserrat Cooking Modern and Traditional'.
That Sharmen has always served Montserrat with passion and enthusiasm is an understatement. As a past athlete of the Amateur athletics Association she captured her only gold medal competing in the 400 meters race on the island of Nevis. Silver and bronze medals were won in Antigua and St Kitts. As a Netballer she was able to compete
in Dominica with her team.
From brownies to girl guides to Guider (leader) Sharmen has been known to give service to her country voluntarily and participate in Queens birthday parades and memorial services.
Name it she has done it. Sharmen also worked as an interim teacher for the Hackney Community College in London marking papers for students studying Health and Social Sciences.