Roach, Myrle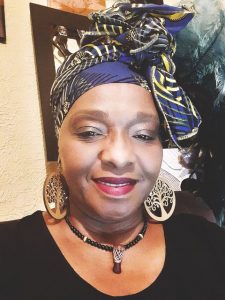 An experienced dramatist, Myrle started her creative journey on her native island the British Overseas Territory of Montserrat with a passion for theatre. She played major roles in renowned Caribbean plays, such as "A View From the Bridge", "Coming Home to Roost" and "Making It", "Moon on a Rainbow Shawl" and "Old Storytime". After the onset of volcanic activity on Montserrat she relocated to the island of Antigua, and while living there she played a major supporting role in the movie "No Seed" produced by HAMA Films Antigua in 2002.
After migrating to live in the county of Northamptonshire in the UK Myrle kept her passion for drama alive and got rave reviews when she played 5 different roles in the play "Who Can Tell", charting the history of black people in Northampton. It was also at this time she began to take her interest in creative writing more seriously. She has
had poems published in the Anthology "Brown Eyes" and has also written magazine articles in a couple regional publications. In November 2018 her first book of poetry "Tamarind Seeds" was published and has been well received. As a performance poet under the name "Alliouagana Pearl" she has been involved in various performances in Wellingborough, Leicester, Birmingham, Derby, London and Blackpool. She also participated in the 2020 "virtual" Caribbean Literary Festival LA with various other Caribbean authors representing different islands and different genres of literature.
In 2005 Myrle was able to bring her experience as a mas player and past member of the Montserrat Festival Committee to the revival of Northampton Carnival in the East Midlands where she currently resides in the UK. Her main role as a volunteer with the organising committee is to produce and coordinate the annual carnival parade which consists of over 30 floats and troupes. She is also an active board member of the East Midlands Caribbean Carnival Arts Network.
Presently Myrle is busy working on expanding on Tamarind Seeds to include spin off merchandise that reflect the content the book, and an Activity Book for young people.
She is also engaged in writing new material for her next book which she expects to publish in 2021. She is also a member of The Alliouagana Singers of London with whom she has performed collaborations of song and spoken word.
Social Media – @alliouaganapearl
YouTube Channel – Alliouagana Pearl